LED Tail Lights
03-05-2013, 09:00 PM
LED Tail Lights
---
I love these Eagle Eyes LED tail lights. I think they look great.
BUT.... I can't seem to get more then a year out of them before they fail.
The right side resistors fail at about 10 months and began to strobe every time I signaled
My supplier couldn't help me cause I was well passed the 30 day warranty.
So I bought another set, only using the right tail light from the kit.
At 14 months Now the left tail light started strobing.
Any advice or suggestions would be greatly appreciated
Oh BTW I found the Eagle Eyes website and sent a friend email in hopes for some resolution from them.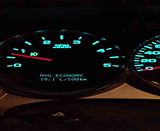 __________________
03-06-2013, 05:52 AM
---
Sorry I can not help you, but Led's are hear to stay and they a super bright and use almost no voltage. But if and when you find out what the problem is please post back so we will know. Good luck with it.
03-06-2013, 07:00 AM
---
Definitely, If the manufacture doesn't come up with a solution... I'll share my own solution with you.
I agree. LED is here to stay. It's the wattage that has been significantly dropped. And this is part of the problem
Because the resistors failed my truck has seen a drop in wattage. The LEDs still work but the drop in wattage has caused the turn signal to strobe.
This is day 2 and no reply from the manufacture.
Thread
Thread Starter
Forum
Replies
Last Post
Chevy Silverado/ GMC Sierra Forum
Chevy Silverado/ GMC Sierra Forum
Chevy Silverado/ GMC Sierra Forum
Chevy Silverado/ GMC Sierra Forum